Berlim 23 de junho de 2016 – A The Document Foundation (TDF) anuncia o LibreOffice 5.1.4, a quarta correção da família LibreOffice 5.1, destinado a indivíduos e empresas. Usuários de versões antigas do LibreOffice devem planejar a atualização para a versão 5.1.4.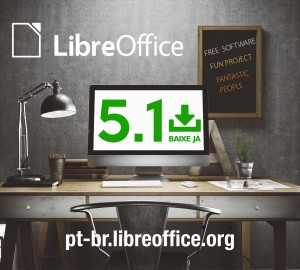 Para instalações em empresas, a TDF recomenda o suporte profissional certificado (uma lista está na página: http://www.libreoffice.org/get-help/professional-support/).

Os interessados nos detalhes técnicos podem consultar as páginas: https://wiki.documentfoundation.org/Releases/5.1.4/RC1 , https://wiki.documentfoundation.org/Releases/5.1.4/RC2 .
Baixe já o LibreOffice
O LibreOffice 5.1.4 já pode ser baixado da página: http://pt-br.libreoffice.org/baixe-ja/libreoffice-novo/
LibreOffice Conference
Em 2016, a LibreOffice Conference ocorrerá na Faculdade de Tecnologia da Informação da Universidade Tecnológica de Brno e organizada pela OpenAlt, de 7 a 9 de setembro.

Detalhes para a chamada de trabalhos podem ser obtidos na página: https://blog.documentfoundation.org/blog/2016/04/08/libreoffice-brno-conference-call-for-paper/.
O registro para a conferência está na página http://conference.libreoffice.org/2016/registration/.
Usuários do LibreOffice, apoiadores do software livre e membros da comunidade podem fazer uma doação para a The Document Foundation na página http://donate.libreoffice.org.
Tradução voluntária: Olivier Hallot