Berlim, 16 de agosto de 2016 – Os voluntários ativos no projeto de documentação do LibreOffice dentro da The Document Foundation anunciam a disponibilidade do Guia do Iniciante do LibreOffice 5.1 (Getting Started Guide for LibreOffice 5.1). O livro atualiza o texto introdutório tradicional com as novidades da versão "estável" do software, destinada a instalações empresariais e usuários em busca de qualidade superior e estabilidade.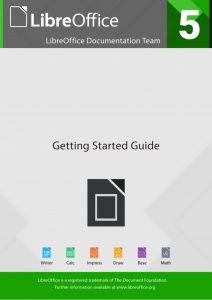 Atualizado por membros da comunidade , o livro é um esforço para suprir a lacuna na documentação oficial para o LibreOffice. A The Document Foundation está trabalhando intensamente para reduzir o tempo entre o lançamento do software e sua documentação associada, para proveito de seus usuários e uma oferta competitiva mais forte.
"Muitas comunidades consideram o Guia do Iniciante como fonte para tradução em seus idiomas, para criar livros texto de ensino do LibreOffice em todos os ambientes, desde a academia até a empresa" afirmou Olivier Hallot, coordenador da documentação da TDF. "Um lançamento na hora certa destes livros sinaliza o compromisso da comunidade com material de apoio para profissionais".
"Além dos downloads sem custos do livro nos formatos PDF e ODT (editável), os usuários podem adquirir cópias impressas", afirmou Jean Hollis Weber, autora, revisora e editora voluntária dos guias do LibreOffice. "Trabalhei com um excelente grupo de voluntários em documentação, mas sempre queremos mais gente par ajudar."
Para baixar ou comprar cópias (pela Friends of OpenDocument Inc., uma organização voluntária australiana com membros ao redor do mundo e que suporta o projeto LibreOffice), visite a página https://www.libreoffice.org/get-help/documentation.
Blog:
https://blog.documentfoundation.org/blog/2016/08/16/getting-started-with-libreoffice-5-1-a-new-book-from-the-community-addresses-the-demand-for-updated-documentation-on-the-software/.
Tradução voluntária: Olivier Hallot