Berlim 25 de Janeiro de 2017 – A The Document Foundation (TDF) anuncia o LibreOffice 5.2.5 "estável", o quinto lançamento corretivo da família 5.2. Com base no futuro lançamento do LibreOffice 5.3, os usuários estão convidados a atualizarem para o LibreOffice 5.2.5, se tiverem versões antigas e anteriores ao LibreOffice 5.1.6.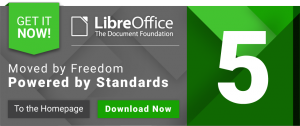 A TDF sugere de instalar o LibreOffice em grandes organizações, administração pública e empesas com o apoio de um profissional certificado (uma lista está disponível em
http://www.libreoffice.org/get-help/professional-support/).
Estrada para o LibreOffice 5.3
O LibreOffice 5.3 será formalmente anunciado em menos de uma semana, no dia 1º de fevereiro de 2017. Os usuários podem conhecer as novidades na página https://wiki.documentfoundation.org/ReleaseNotes/5.3.
Baixe já o LibreOffice
O LibreOffice 5.2.5 já pode ser baixado da página: http://pt-br.libreoffice.org/baixe-ja/libreoffice-novo/
Usuários do LibreOffice, apoiadores do software livre e membros da comunidade podem fazer uma doação para a The Document Foundation na página http://donate.libreoffice.org.
Várias empresas com assento no Conselho Consultivo da The Document Foundation fornecem suporte de longo prazo ao LibreOffice ou serviços de consultoria para migração e treinamentos, conforme as melhores práticas compiladas pela The Document Foundation.
Tradução voluntária: Olivier Hallot